Get the most out of email marketing by automating your email campaigns. Deliver the right message at the right time based on customers' interactions with your previous emails. Create a series once, then let it run automatically.

Why automate your emails?
Get more opens and clicks
Automated email series improve open and clickthrough rates — and increase your sales. They build customer loyalty and drive repeat business. And they're a snap to set up.
Automate a campaign for every business need
Win back lapsed customers
Build excitement for an upcoming event
Reach out to people who didn't open your last email
Thank customers for taking a survey
Onboard new clients
Educate customers about your products or services
Share news about product or business updates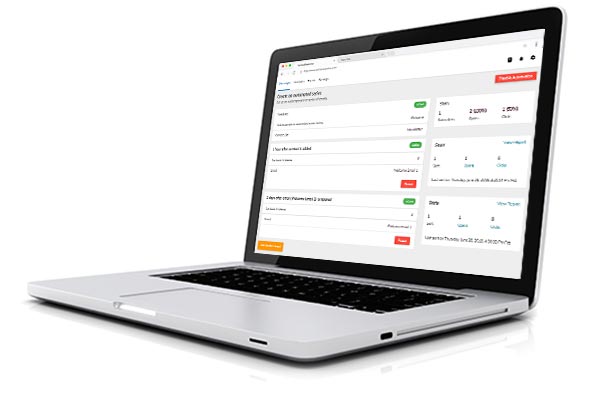 What you can do
Welcome new subscribers
Get off to a great start with new subscribers by sending an autoresponder or a series of emails. Help them get to know your company, send a coupon, or tell them what to expect after signing up for your newsletter.

Re-engage inactive subscribers
Win back customers or donors after a period of inactivity. Create a series of emails designed to remind them of all the great things you provide and what they might be missing. Easily remove contacts from their list if they don't engage.

Automate an email series
Build anticipation with weekly promotional emails, or make educational content easier by delivering it over time. No matter the series, simply decide the timing and criteria once — and then let it run automatically.
Nurture leads
Keep customers engaged with timely, relevant emails. Thank loyal customers with an exclusive discount. Turn prospects into paying customers with messages that automatically arrive when their interest is high.
How it works
Name email series and select a contact list
Determine time intervals and subscriber behavior to trigger series
Create the first email
Add as many emails as you like

Pause or disable series at any time
You choose the time
Set each email to automatically go out hours, days or weeks after the previous message.
Let reader behavior direct the series
Automatically release a different email depending on whether a reader has joined a list, opened a previous message or clicked a link.
Email automation reporting
Analyze results
Measure email performance with easy, real-time reporting. See high-level metrics for the entire series, as well as a breakout for each individual email message. Similar to a solo email campaign report, see a series summary that shows number of emails sent, opened and clicked.
Optimize
Easily identify underperforming emails ripe for optimization. Make adjustments to the subject line, content or frequency to improve results.