When sending emails to your current and potential customers, it's important to remember that not every point of contact should be a push to sell your products or services. Building business relationships starts with building trust from the very first email. So, how do you build trust? By respecting your readers' time, offering expert advice and tips, sharing things that benefit your customer and being honest.
Need some examples? Here are six emails that help build customer trust.
1. Welcome email
As your first contact with a new subscriber, your welcome email is handshake; make sure it's warm and inviting. Keep it short. You want to welcome them, thank them for signing up, introduce your business and tell them how often they'll hear from you.
You can also include a few bullet points about what they'll be receiving in terms of email content. Be sure to ask your recipient to "whitelist" you by adding your email address to their address book.
To see examples, check out this post: 10 Examples of Highly Effective Welcome Emails.
2. Alert emails
Consider sending alert emails when appropriate. For example, if you're an allergist, you could send an alert email about the high pollen count in your area. A travel company can send weather alerts. If you ship products to your customers, send an alert with an estimated arrival date. Alert emails are timely and informational. It's an effective way to keep your customers in the loop, which builds your relationship.
3. Newsletters ­
With every newsletter you send, you educate your audience about your business while building trust at the same time. The purpose of your newsletter isn't to sell, but to inform. Tell your audience about recent changes, highlight an exceptional employee and mention upcoming events. You can include all sorts of content in your newsletter.
Get in the habit of sending your newsletter on a regular basis so customers come to expect it. Newsletters are like lunch dates. These digital meetings give you and your contact a chance to catch up.
4. Oops emails
Did you make a mistake? If so, admit it. Apologize for sending out the wrong deal, an inaccurate fact, or a broken link. It's an opportunity to build trust. Admit your mistake and explain how you'll correct the problem in the future. Here's an example: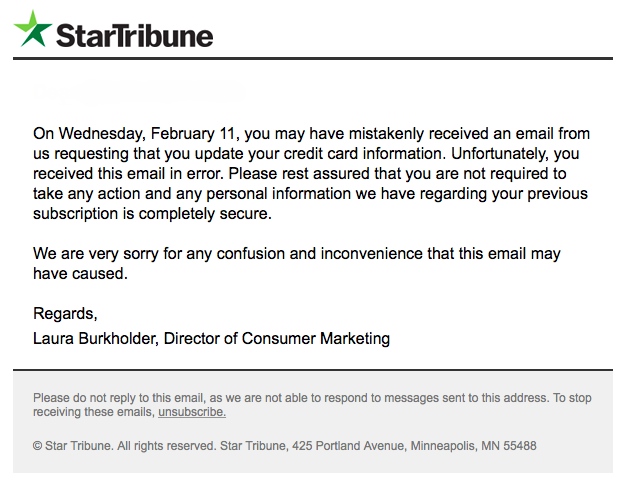 5. Educational emails

Remind your readers why you're their go-to expert by sending out short articles, videos or infographics that are of interest to them. According to the 2015 Edelman Trust Barometer, industry experts are twice as credible as CEOs. So make the most of your opportunity to impress clients (and earn their trust!) with your knowledge and expertise.

6. Freebie emails

If your business or service is giving something away, let your audience know about it via email. We're talking about no-catch free stuff (or services). For example, a landscaping service might give away 20 tickets to the Home & Garden Show. You could give away free memberships or a free consultation for services, many B2B companies giveaway free content like ebooks or whitepapers.

What kind of emails do you send to build trust with your subscribers? Share in the comments section below.

Wendy Burt-Thomas is a full-time freelance writer with four books and thousands of published articles to her credit. Contact Wendy at WendyBurt@aol.com.

Build trust by emailing through VerticalResponse – It's free and easy to get started.

© 2016 – 2018, Contributing Author. All rights reserved.

<