Did you know that in 2018, Valentine's Day spending hit a record-breaking $19.6 billion? It's no wonder that Valentine's Day sends business owners' hearts aflutter.
According to a study by Prosper Insights & Analytics for the National Retail Federation, the average person planned to shell out more than $140 on traditional Valentine's Day merchandise, with customers aged 25 to 34 being the biggest spenders. Consumers, on the whole, planned to spend a total of:
$4.7 billion on jewelry
$2 billion on flowers
$1.8 billion on candy
$894 million on greeting cards
$1.5 billion on gift cards
The objects of their affection included spouses and significant others, children and parents, classmates and teachers, friends and even Fido — with an estimated 20 percent of consumers buying Valentine's Day gifts for their pets. What's more, 27 percent of consumers planned to celebrate the holiday by treating themselves or getting together with family and friends.
Valentine's Day can be lucrative for nearly all businesses
Because it's not just for sweethearts, Valentine's Day can be lucrative for almost any business, from restaurants and retailers to auto shops and coffeehouses. So, don't be shy! Win customers' hearts and business with swoon-worthy email marketing promotions. Read on for inspiration:
The RealReal: No Partner? No Problem — Shop Valentine's Gifts to Give Yourself
The RealReal takes a fresh approach to Valentine's Day by celebrating singlehood. The subject line appeals to people who don't have partners but still want and deserve gifts. Why not treat yourself?
Keurig: From Keurig, With Love
This Valentine's Day, Keurig is making it easy for customers to order a coffee maker, plus a variety of tasty beverages. The email is easy to navigate, just like Keurig's auto-delivery service, so customers won't have any trouble stocking up on their favorite brews.
HelloFresh: Put Love On The Menu: Your Valentine's Guide
This email from HelloFresh features clever copy and an irresistible call to action: "Save my Valentines Day." Nobody wants their romantic dinner spoiled, so if the alternative is to go to an overcrowded restaurant, HelloFresh just might be a viable option.
Minibar Delivery: Kissed by a rosé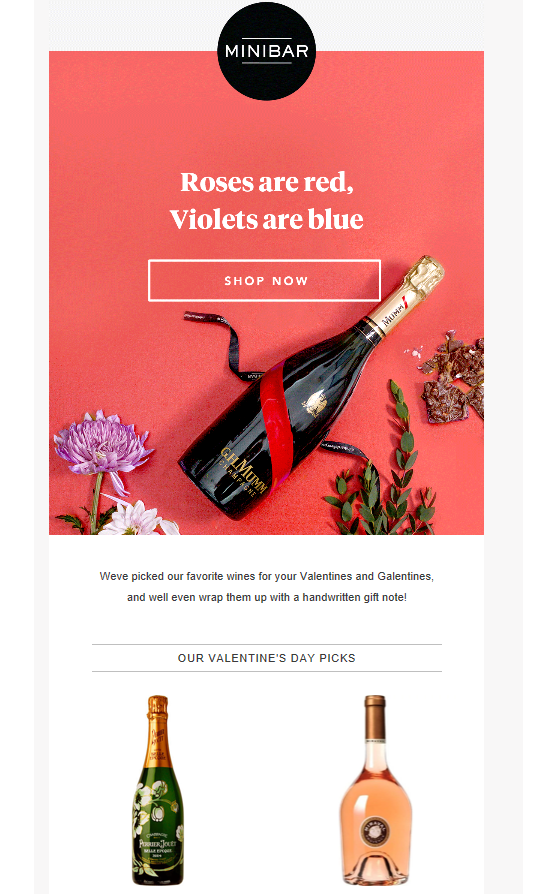 Minibar uses a cute pun in the subject line and a funny and original poem to make this email POP.
Molekule: A Valentine's message from Molekule
Molekule takes an extremely unromantic product (an air purifier) and turns it into a perfectly practical Valentine's Day gift. It's a great reminder that you don't have to sell flowers and candy to celebrate the holiday.
Maison Impeccable: MI Intel | Love is Afoot
Aside from the playful subject line, Maison Impeccable has a conversational, click-worthy call to action.
Gymboree: Goodbye, Free Shipping! Goodnight, Valentine!
Gymboree downplays Valentine's Day but goes bold with a huge, attention-grabbing ad for a 70 percent off, store-wide sale.
Francesca's Collections: Valentine's Day Picks For You!
Francesca's Collections does a great job of showing customers the love with discounts and deals, wardrobe fashions for a romantic night and last-minute gift suggestions.
JR Cigars: Join the Romeo Lovefest & Get 20 Free Cigars!
JR Cigars uses humor to create a catchy subject line that attracts star-crossed Romeos and Juliets. Of course, there's also a great reason to shop — 20 free cigars!
Modkat: Valentine's Special – Love at first sight.
Modkat definitely knows its audience and recognizes the fact that cat lovers won't forget their furry friends on Valentine's Day.
Lensabl: From Lensable With Love: 25% Off All Lenses!
Lensabl combines a heartfelt Valentine's Day greeting with a sweet one-day deal. Gift or no gift, why not send your customers a valentine?
SinglesSwag: February Box Reveal 
Everybody loves a surprise, right? SinglesSwag piques customer interest by giving customers a sneak peek of their February box chockfull of goodies. The message contains a sense of urgency to appeal to people's fear of missing out and get them to act fast.
Get customers to cozy up to your business
Here are some ideas for content and promotions that will get customers to snuggle up to your business:
Offer a buy-one-get-one treat to share with their valentine
Invite customers to your anti-Valentine's celebration
Appeal to lovelorn folks with a "broken-heart brunch"
Promote a "Love stinks!" stinky cheese sale
Send diners a voucher for a free heart-shaped dessert
Email a Valentine's Day gift guide
Promote early bird specials for cakes, flowers and gifts
Hold heartwarming events like a cooking class or wine tasting
Offer an auto detailing special for customers' sweethearts
Offer a pest control service special, so customers can enjoy a romantic Valentine's Day without being bugged
If this Valentine's Day is anything like last year's holiday, you definitely don't want to miss out. Remember, you don't need to sell flowers, cards or chocolates to celebrate. Focus on showing your customers how much you love and appreciate them. But don't wait for Cupid to work his magic on potential customers. Make the most of the day with email marketing promotions your customers are sure to love.
Join 140,000 small business owners
Get expert tips and email inspiration delivered to your inbox every two weeks.

SUBSCRIBE

Editor's note: This article was originally published in 2011 and has been rewritten for accuracy and relevance.

© 2019, Bella Girardi. All rights reserved.

<